Breakfast with Frank Kelly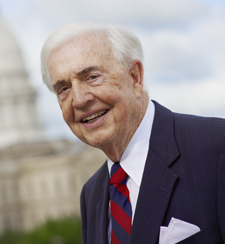 The Friends of the Okemos Library will host a "Breakfast with Frank Kelley" on Saturday, May 21. Former State Attorney General, Frank Kelley, will speak about his years in office and the challenges he faced, as well as the state, national and international personalities he met while in office as Michigan's longest-serving Attorney General. Mr. Kelley will have copies of his recent memoir, "The People's Lawyer" available for signing.
Seating is limited, so paid reservations must be secured by check prior to Tuesday, May 17, at the Library Information Desk or by mail. Okemos Friends' members are $15.00; non-members are $18.00. Doors open at 9:30 a.m., buffet starts at 10:00 a.m. at the Okemos Library, 4321 Okemos Road, Okemos. For more information contact Cecelia Kramer, 517-349-3297.